I was sure that I had already created a tutorial for a Marty Mcfly costume seeing as I had already done one for Doc (my favorite character thanks to the fact that he is so wacky and interesting) and that I absolutely love the Back to the Future series of movies.
The Back to the Future trilogy is a geek's dream, it has everything you'd want in the perfect movie: time travel, science fiction, wacky scientists and a hoverboard. The main character is played by the talented Michael J Fox and quickly become a fan favorite.
I know just how popular the movie is even over twenty years on approaching thirty and the outfit is super simple with no sewing required, great for non crafty types.
Marty Mcfly Orange Vest
Adult Marty McFly Halloween Costume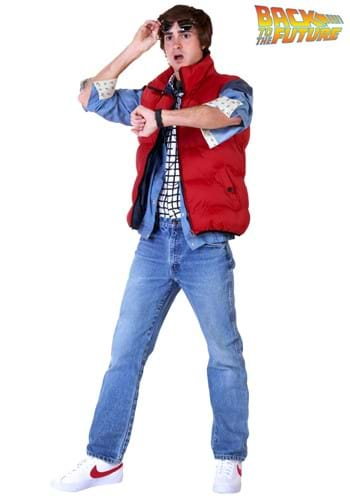 Back to the Future Marty McFly Costume

The very first part of the outfit is the orange puffy jacket, typical 80's. You can find something suitable at the thrift store or charity store if you are from the UK that you can use although you can get the orange puffer as part of a set if you buy pre-made.
Underneath the puffer jacket is the denim jacket, and furthermore a white shirt and red tee (it might get toasty with all of those layers). Depending on how true to the character's outfit you want to be you may substitute one of the layers.
The final part clothing wise is a pair of denim (yes more denim) jean which you can probably gather from your own closet if not thrift stores are a great place to find some and a pair of Nike trainers although these aren't compulsory. Just don't forget a pair of Calvin Klein boxers as that is his fake name in the movie after all.
As with any time travel story time itself is a crucial element which means a watch will be needed at all times and it's best to look down at it several times to see if you are running late as you can see the man is doing above.
Marty Mcfly Jr Costume
Back To The Future Movie Jacket Costume Adult Front Print T-Shirt Tee

Back to the Future Marty McFly Vest Costume T-Shirt

We are introduced to Marty's son in the second movie of the trilogy where Doc goes back to 85 to tell Marty that his son is in grave danger and he needs to come back to sort out the problem.
For Doc's plan to work McFly needs to impersonate his son and thankfully his son is a splitting image of him, so when he wears a colorful futuristic hat and clothes he fools people into believing he is his son and subsequently stops him from going to jail.
A colourful cap which you can wear whichever way you want and finally the over-sized jacket that becomes the right size when its activated.
Back to the Future Replica Hoverboard
This is perhaps the most important piece to the outfit and the most fun aspect of it, well hover-boards cannot actually fly but they are still fun to carry around with you and tricking people into believing they can (if you've seen the video with Tony Hawks you know what I mean).
The iconic hover board which is used to escape the bullies in the second movie and clear his sons name and in the first movie aswell, above is a replica you can use although unfortunately it doesn't work on water.
It comes in at over 28 inches
With velcro straps
Made of plastic with authentic sticker design
Not a toy but a replica you can hang on your wall or store after you've used it for Halloween or fancy dress. If you do not feel like a hoverboard, not that anyone wouldn't, then a skateboard will come in well too. Even better paint the skateboard so that it looks like the board and pretend as if you are gliding/floating on it.
Back to the Future 2: Marty Mcfly Nike Shoes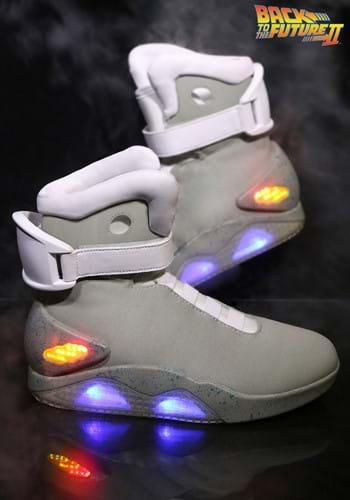 Back to the Future 2 Light Up Shoes

You would need to wear these exact futuristic clothes from the year 2015 (not so futuristic now eh) to be Martin McFly Junior. Other than clothing you'll want the perfect accessories to make the outfit really 'pop'.
These include a pair of Nike trainers like his dad although this time with Velcro straps that automatically slip into place. Above we've selected a replica from Halloweencostumes.com, I couldn't even find these on Amazon (or with a similar level of detail) which is what I like about other retailers which cater specifically for Halloween accessories.
Comes with a power cords for charging LED lights.
Plus Shoe box with Back to the Future logo.
It won't be long before we'll all be flying around in Deloreans and creating paradoxes in the space time continuum but until then we can at least pretend that we can.