It might seem weird to some to include pets in holiday gift giving, however for many their pets are a part of the family.
I know I've bought festive treats for both my cats and my friend's dogs. They get just as excited to give their pet a gift as they are to receive one themselves!
It doesn't have to be a big gift, pets are happy with small treats which you can package in a stocking.
Christmas is a time for the whole family and that includes pets. It can be hard to find good pet themed Christmas items but with a little research you can find some excellent options.
If you're looking for some Christmas stockings for your cat then look no further. We've picked out the best from the selection we could find to save you time this holiday season.
Best Cat Christmas Stockings
Glitzhome 19″ Handmade Hooked Cat Christmas Stocking

AerWo Pet Cat Christmas Stocking Hanging Christmas Stocking with Large Paw for Christmas Tree Decorations, 18 x 11 Inches

These are my two favorite stockings for cats specifically. The first stocking depicts a beautiful black cat in Christmas attire surrounded by snow. For the second stocking I love that you can hang little decorations, the fish shown in the image add that feline touch.
Kitty Cat Soft Plush Cloth Hanging Christmas Stocking

Here is another great choice that comes in designs suited to either cats or dogs, if you have a dog too they don't have to be left out. Hang them on your fireplace and fil them with delicious fishy snacks.
Personalized Cat Christmas Stocking
QBSM Dog Christmas Stocking Pet Cat Large Paw Personalize Hanging Puppy Stockings with Bone, Red

Valery Madelyn 21 inch Joyful Pet Christmas Stockings Personalized Hanging Cat with Fish and Christmas Hats (Pet Collection)

These stockings both have space for you to customize them with your own personal embroilment. They will work well hung on your fireplace or tree, however be mindful of the height you hang them as your cat might try to claw at it.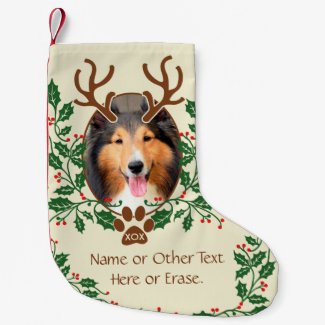 Christmas Antlers For Dog / Cat Personalize Photo Small Christmas Stocking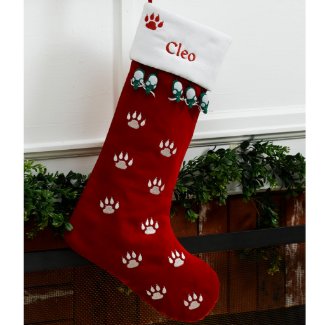 Cute Cat Personalized Christmas Stocking

If you're looking for stockings you can personalize directly from the product page then take a look at these beautiful designs from Zazzle.
The first stocking can be customized with your pet's photo and name. The second stocking can be personalized with your pet's name. Simply click the customize it button on the page and enter your chosen text.
Search For Stocking Fillers
Now you can search for all the treats and toys you want to fill your stockings with. Amazon has to be the best place to look for affordable treats. although the dollar store would also be perfect if you have one near you.
I hope you've enjoyed these choices as much as I've enjoyed selected them. Here's to a happy holiday for both you and your furry friends!