I just realised that with my love for the Flintstones and the amount of articles I have referencing them on the site I have still yet to do a full tutorial for a Bamm Bamm costume when he is one of the most popular character for men even more than Barney and Fred.
He is the son of Barney and Betty, he was adopted by them when he was found (in a turtle shell) on their doorstep.
His name is no misnomer, he is called Bamm Bamm because he bangs his club against the ground repeatedly with extraordinary force causing it to shake.
For a kid he is extremely strong and could even walk, as he grew older however his strength become less of a 'thing' as his personality mellowed, he fell in love with and consequently married Pebbles.
Bamm Bamm Flintstones Toddler Costume
Rubies The Flintstones Bamm Bamm Complete Costume, Toddler (1-2)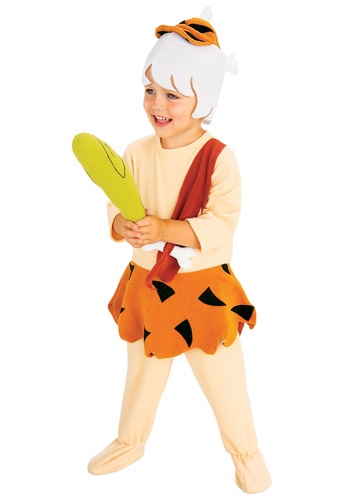 Bamm-Bamm Toddler Costume

The costume is a typical cavemen style which is why people love it so much aswell that it's perfect for couples as your girlfriend/wife can be Pebbles. Here are two sets of clothing you can get above for toddlers. Even though the character was a child he possessed a lot of grown up attributes. These images above also show that if you do not want to go shirtless that's fine too, simply wear a tan colour t shirt.
The first item we are going to focus on is his caveman clothing, this is in the same design as Fred's (not his adoptive father Barney) which is orange fabric with brown markings.
Adult Bamm Bamm Costume
Bamm-Bamm Costume – X-Large – Chest Size 44-46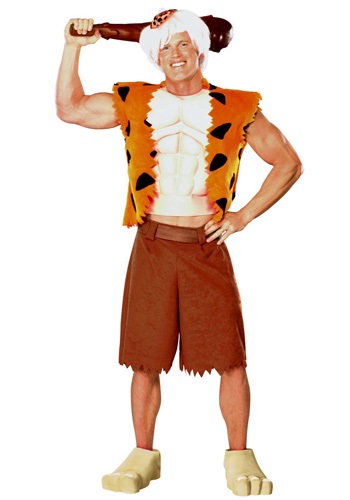 Adult Deluxe Bamm-Bamm Costume

Then there are options for adults which include: vest with muscle chest, shorts, wig with cap, and shoe covers. I've included two different retailers just in case one goes out of stock during Halloween season.
Going the DIY route you can create this yourself using orange fabric, measure the person who will wear the tunic and cut and sew it to the right length. Then use a pair of fabric scissors to cut the zig-zags out of the bottom. Cut small triangles out of darker fabric (brown or black) and then glue these to the tunic or sew them on.
Sash and Bone
Pebbles and Bamm Bamm Halloween Coordinates-Sold Separately
Create a sash to go from your shoulder to your waist to hold the tunic up using slight darker fabric again, measuring your body then cutting the fabric to length and sewing it onto the tunic.
At the point of your waist position a fake toy dog bone to emulate the prehistoric bone he keeps at his waist. I have put a plastic bone above for you.
Hair and Cap
Next up is the hair, his is a little different to most cavemen/children as it is not scruffy and brown. Actually all of the characters from the Flintstones have seemingly good hair. You will need a short white wig to place over your own hair or you could use spray although it may not be effective if your hair is dark to begin with.
After you have made your hair white somehow the next piece is the cap, I think a cap is a weird thing for him to wear but he does. Get an orange cap and use some left over brown triangles, stick these on. Then use a ball of wool and attach this to the top.
Bamm Bamm Club
Rubie's Costume Co Inflatable Cave Club-36
The final item you will need and cannot miss is the club that he uses to make the ground shake violently. The best option for something similar is a blow-up caveman's club that won't cause any real harm but will be a lot of fun to use.
Another option is to use a plastic bat and spray paint it brown, the only reason I think blow up is better is because it won't hurt if it is dropped or hits someone on the head.
I have picked out a brown inflatable club for you above with distinctive markings. Once you have all of the items gathered and put together I wish you a lot of dressing up fun!